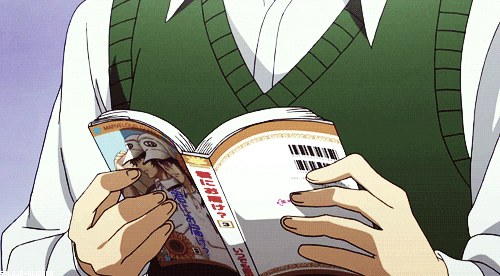 Updated: September 8, 2017
Read any good manga recently?  I came down upon volumes with a vengeance since last month's dud.
This is what I've read so far in this latest manga update:
New Manga
Ai Yori Aoshi by Kou Fumizuki
Dragon Ball by Akira Toriyama
FLCL by Gainax
The Legend of the Zelda: Four Swords by Akira Himekawa
Puella Magi Madoka Magica by the Magica Quartet
Soul Eater by Atsushi Ohkubo
Updated Manga
Attack on Titan by Hajime Isayama
Azumanga Daioh by Kiyohiko Azuma
Black Butler by Yana Toboso
Black Clover by Yuki Tabata
Blood Lad by Yuuki Kodama
The Demon Prince of Momochi House by Aya Shouoto
Fairy Tail by Hiro Mashima
Haikyu by Haruichi Furudate
Magi by Shinobu Ohtaka
Monthly Girls' Nozaki – Kun by Izumi Tsubaki
My Hero Academia by Kohei Horikoshi
Nostalgia Hits!
For those who don't know, Dragon Ball is the first series before all of the others came out. The story begins with young Goku and Bulma on their first grand adventure tracking down the legendary dragon balls. If they collect them all, Shenron the dragon will appear and grant one wish.
Back in the day, I used to wait for Cartoon Network's Toonami to watch Dragon Ball Z. At some point, they brought the original Dragon Ball on TV too.
Instead of tracking down where I left off watching Dragon Ball Z by reading the manga, I've decided to start at its origins.
Read All the Zelda Manga!
I enjoy reading The Legend of Zelda manga.
About a year ago, I read Akira Himewaka's manga adaptation of The Ocarina of Time. If you barely play the video games, stories like Four Swords will fill you in on Link's quests.
Being a Magical Girl Can Be Scary…
The volume cover of Puella Magi Madoka Magica looks cute and friendly until you uncover its dark side you will never forget. The story takes the magical girl genre into a surprising path. Don't want to spoil much of the story…
I thank my friends for recommending this to me! Wish I've started reading Madoka Magica sooner.
Conclusion
August was indeed a great manga reading month and it has given me many manga series to add in my "to-read" list!
The latest manga volumes has been updated in my manga list.
(Pic Source: Giphy)
Read any of the manga listed? Recommendations? Feel free to comment below!