Should I catch up with the latest episodes or not?
That was the first question I had in mind when I heard the latest Dragon Ball series was on air (with a female Saiyan too). I haven't watched the shows since Dragon Ball Z aired on Toonami over twenty years ago.
I finally decided to start all over by reading the original 1984 Dragon Ball series.
While reading, I've discovered some interesting facts:
The seven dragon balls have names.
Oolong was a villain.
Yamcha and Bulma dated.
Goku has no clue about females.
The Dragon Balls' Names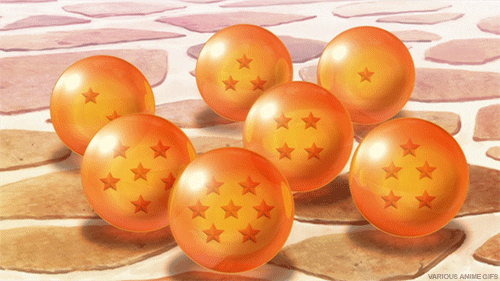 The names goes as followed in order of the number of the stars on the balls:
(unknown)
Arushinchu
Sanshinkyu
Suishinchin
Oschinchu
Liushinkyu
Chiishinchu
The collected dragon balls summon the great dragon Shenron to grant one wish. The balls turn to stone and scatter all over the world after the wish is complete. They can only be used once a year after Shenron's summoning.
In the first Dragon Ball volume, Goku mentions his grandfather gave him Suishinchin. Bulma reveals to Goku she has already gathered Oshinchu and Arushinchu.
While Goku only seeks adventure during the dragon ball quest, Bulma plans to use the balls to wish for a boyfriend.
Funny to say, Bulma doesn't need a wish once she meets the desert bandit Yamcha.
Bulma & Yamcha
Before Bulma was in a relationship with Vegeta, she briefly dated Yamcha.
Yamcha desires marriage, but he's afraid of girls. The further along the dragon ball quest, he and Bulma gain an intimate relationship.
I wonder why they didn't remain a couple. If they did, then Trunks wouldn't have existed and the entire Dragon ball universe would've taken a different turn.
Oolong Was a Terrorist?
Never in the world I would see this little piggy as a villain. Goku and Bulma meet the shape-shifting Oolong terrorizing a small village.
However, Oolong was not entirely bad. All he did was pose as a scary demon and kidnap the village girls to take care of his house. He can be a bit pervert, especially with Bulma, but she always evades his advances.
What's a Girl?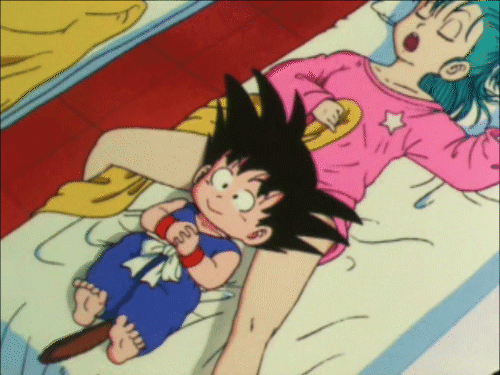 Goku's reactions towards girls are hilarious! He thinks girls have tails and boobs were butts on their chests. Goku's biggest surprise:  they don't have balls.
Sure, Goku's only a little boy, but you would think he would've known a little more about females before meeting Bulma.
Worth Reading?
Overall, Dragon Ball is a great shonen series filled with memorable adventures and characters. Please do read the original series first if you're familiar with the Dragon Ball universe. How everything started will surprise you.
Author Akira Toriyama has written sixteen volumes of Dragon Ball before hitting off with Dragon Ball Z.
So far, I've read five volumes. It's time to read the rest!
Past Manga Mondays Posts:
(Pic Sources: Giphy, Disqus)
Feel free to comment below if you've read this manga series or you have any recommendations. 
Thank you!