Deep Work praises the lost art of long, focus-intensive work. Cal Newport clearly defines the difference between "busyness" and concentrated work leading to notable advancements.
This book has captured my attention entirely. I've read it all in one evening!
We currently live in a bustling world of multitasking. Studying nowadays consist of occasionally glancing over notes for an upcoming test while watching The Life of Kylie with a group of friends. The failing test grade answers the accomplishments.
Next, there are work places glorifying multitasking. The ideal employee constantly checks e-mails, accomplishes many trivial tasks around the office, and attends meetings with minimal "call to action" results.
Really? Research reveals multitasking harms our brains!
I learned from Deep Work being that kind of busy isn't remarkably as important as society points it out to be. There's "busyness" aka shallow work then there's deep work.
Shallow Work
"Shallow work" is labor of little to no value to your major goals.
Let's say you're a blogger planning to post ten blog articles within a month. You want to complete your first blog post on the first day of the month.
On the first day, you search for the perfect WordPress theme for your blog, comment on other people's blogs, write notes from a book about blogging, and watch dozens of YouTube videos on creating blog content.
Close to midnight, you're too tired to start your blog post. You decide to do it tomorrow and go to bed.
The day wouldn't have flown by if you've only given yourself a few hours in the morning writing your first blog post. All the blog post commenting and WordPress theme searching is shallow work. They mean little to writing!
Now, you can't avoid shallow tasks forever. It's best to schedule your deep work first and the shallow work later.
Deep Work
"Deep work" is tending on a goal from start to finish in a dedicated number of hours. The more focus on a project, the more it will likely be produced.
University of Pennsylvania professor Adam Grant (introduced in Deep Work) formed an excellent "deep work" formula that has helped him reach astounding success in his teaching career:
(Time Spent) x (Intense Focus) = High Quality Work Produced
Back to the blogger example, it would've been best to give yourself two hours to blog content creation with no distractions. The first draft would've been completed with a brief outline for the next blog post.
Now, Newport mentions big goals are best when they're cut down into small, manageable steps. One can't simply publish the next great American novel of 100,000 words within a day. Set up how many hours a day you're planning to work on the novel and see what happens.
Better luck having the novel all set and ready within six months than twenty-four hours.
How to Start Deep Work
Did you know J.K. Rowling wrote the last Harry Potter book exclusively at an Edinburgh hotel?
Mark Twain isolated himself in a cabin to get some work done. His family blew a horn to get his attention when it was time for dinner.
These famous authors have created time for deep work and steered away from any distractions for their projects. That's how you can get started.
Distractions include:
Phones
Tempting internet
TV
Small talk with people disrupting "deep work" time
Some of you who may read Deep Work may be thinking: "I can't do deep work, I have kids!"
Along with being an active writer and associate professor, Newport mentions his deep work routine with the addition of his two kids. He has established time blocks for himself to get work done and a shutdown time.
Shutdown is a set time when you stop everything and chill. Your willpower can go on for so long until it runs out and it needs to be recharged.
After a couple of hours of deep work, parents can conveniently use shutdown mode as precious time to spend with their kids (if their little ones can understand that).
However, I'm a single gal with no experience with parenting whatsoever. I don't know much about the hustling parent world balancing family and work life except for what I've seen my parents do. Check out this Motherly article about doing deep work from a parent's perspective.
In short, to start deep work:
List your top goals
Create time blocks for those goals and a shutdown time
Clear distractions
Execute deep work within time blocks
Shutdown after you've completed blocks
The Benefits of Deep Work
Deep work creates flow and flow leads to happiness.
Surprisingly, work flow leads to more fulfillment than free time.
Work flow happiness comes from the structure of a planned goal. When you set an intention, and put forth action until you reach your goal, the euphoria of achievement (thanks to dopamine) overcomes you. You'll want reach the pleasure of success repeatedly.
Free time is always fun. You get to break free from structure once for a while to do the spontaneous. People go on vacations to take a break from their everyday routines and do whatever they want in a new landscape.
Eventually, vacation mode gets dull and it's time to return to work mode.
Happiness is found in whatever meaningful creation you contribute. Chinese philosopher Confucius once said: "Choose a job you love, and you will never have to work again."
Vacations aren't necessary to finding happiness but they're worthy rewards for hard work.
My Deep Work Relationship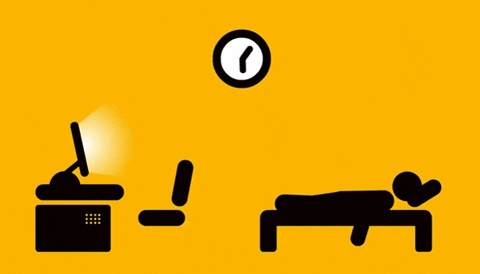 I've changed a couple of my daily habits after reading Deep Work. I shortened time from less important tasks and added it to more important ones. Exercise, a very important habit to me, has been reduced from an hour to thirty minutes. My hour of writing I do most days increased to ninety minutes.
Plus, I changed my wake-up time from five in the morning to four. My body is not used to it yet so I take a nap or two during the day to work diligently with much energy as possible.
Video games, social media, and TV have all been placed after my shutdown time around five in the evening. However, I've end up writing and reading more after shutdown simply for leisure more than I already do for deep work.
Great things happen when you sharpen your habits!
Conclusion
Newport has indeed written a remarkable book on the joy and great outcomes of focused creations. Deep Work offers readers a "deeper" look on what needs to be done to get ahead.
If you want to stand out for your steel discipline and ceaseless production, please do read this book!
Other Book Recommendations:
The 80/20 Manager: The Secret to Working Less and Achieving More by Richard Koch (review)
The One Thing: The Surprisingly Simple Truth Behind Extraordinary Results by Gary Keller & Jay Papasan (review)
Do Less, Get More: How to Work Smart and Live Life Your Way by Shaa Wasmund (review)
(Pic Sources: Amazon, Giphy)
 Had a "deep work" experience? Share your story in the comments below!