Hope your summer reading has been a pleasure!
I've read a plenty of exciting writing books and comics. Here's what I've read back in July 2017:
Adult Non-Fiction
This short book provides many exercises to become a faster, more productive writer. No joke, Chris Fox has done all the steps in this book since he's accomplished writer and all.
Recommended for Readers Into:
This book has shifted my perspective on work. I'm inspired to dedicate more time into my personal projects thanks to the case studies presented here.
More time dedicated to deep work equals more production.
Recommended for Readers Into:
Productivity
Work & Success
Work Hacks
I read this book shortly after reading 5,000 Words Per Hour. This book provides an in-depth look on maintaining active writing habits.
Recommended for Readers Into:
Moira Allen has created a beneficial guide for readers interested in freelance writing as a lifetime career. She includes everything you may want to know regarding query letters, setting up invoices, finding writing opportunities, and handling taxes as a self-employer.
Recommend for Readers Into:
Freelance careers
Freelance writing
Writing
This is a great book to for finding writing opportunities in magazines, literary anthologies, scriptwriting competitions, and more. This book has it all!
Recommend for Readers Into:
Children's Fiction and Non-Fiction
A sweet book teaching kids how everybody's physically different but share the same basic emotions.
Recommend for Readers Into:
Teaching diversity to kids
A puppet lives in a village where everyone gives each other star stickers for good features and grey dot stickers for unattractive ones. Only getting dots for his homely appearance, the puppet meets his creator to find out how why that's the case. A heart-warming story about how everyone, no matter how different, is special in their own unique way.
Recommend for Readers Into:
Inspirational children's books
Teaching kids the appreciation of individualism
Comics/Graphic Novels
Trouble brews for Aquaman as soon as he creates peaceful relations between humans and his fellow Atlantean citizens. Now, humans are blaming him for the catastrophes brought on by his "people".
Aquaman investigates who's really behind the disasters before it blows out into a full-fledge war between land and sea.
Recommend for Readers Into:
Aquaman
DC comics
The Justice League
Also Read:
Volume 2: "Black Manta Rising"
Captain America is in league with Hydra? You must read how Steve Rogers came into this conclusion!
Also Read:
Volume Two: "The Trial of Maria Hill"
Recommended for Readers Into:
The Avengers
Captain America
Marvel comics
Somebody's trying to take out Harley Quinn. After Harley's home blows up, she moves to Coney Island to start a new life but assassins keep crashing in her new pad.
What the heck a girl got to do to live a calm, decent life? If you're Harley Quinn, your world will never be calm.
Also Read:
Volume Two: "Power Outage"
Volume Three: "Kiss Kiss Bang Stab"
Volume Four: "A Call to Arms"
Recommended for Readers Into:
DC comics
Gotham Girls
Harley Quinn
Howard the Duck is a private detective who only wants to solve simple cases, get money, and find a way to return to his home planet. It seems like he's not going to get any of those anytime soon since he's always winds up in the craziest situations.
I hope this series turns out better since the first volume was a bit bland.  I appreciate the superhero cameos though.
Recommended for Readers Into:
Howard the Duck
Marvel comics
Tony Stark can be quite arrogant, but villainous?
Stark's mental state has changed since he and the Avengers fought the Red Skull equipped with super psychic powers. He thinks he's still doing good deeds for people but his close friends start seeing him as a rising threat to mankind.
Also Read:
Volume Two: "Stark Contrast"
 Recommended for Readers Into:
The Avengers
Iron Man
Marvel comics
The image of Logan once as a fragile little boy surprised me! He went through so much growing up in a privileged (yet troubled) household in Alberta, Canada to working in a stone quarry in British Columbia.
Recommended for Readers Into: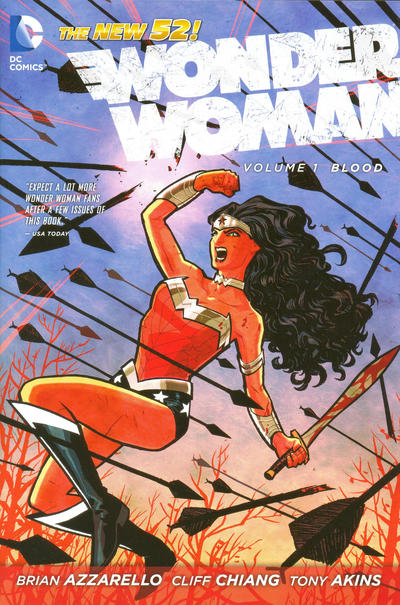 A scared woman named Zola seeks Wonder Woman's help after being attacked by assassin centaurs (you've read that right). Looks like Hera is after another woman who has slept with her man Zeus, but where's he?
Wonder Woman is set on a mission to search for Zeus' whereabouts and make sure Zola is safe and sound from Hera's wrath.
Also Read:
Volume Two: "Guts"
Volume Three: "Iron"
Volume Four: "War"
Volume Five: "Flesh"
Volume Six: "Bones"
Volume Seven: "War Torn" (by Meredith Finch)
Volume Eight: "A Twist of Fate" (by Meredith Finch)
Volume Nine: "Resurrection" (by Meredith Finch)
Recommended for Readers Into:
Juvenile Fiction
Newt Scamander's magical creatures roam free all over New York City after escaping from his enchanted briefcase. Capturing them on his own gets more complicated when there's a dangerous wizard on the loose and the MACUSA (Magical Congress of the United States of America) is over his shoulder. Above all else, Newt hopes his creatures and any people are left unharmed.
Overall, reading the screenplay was way more fun than watching the movie.
Recommended for Readers Into:
Harry Potter
The Harry Potter Universe
*~*~*~*~*
That's all for July's book haul!  Make sure you check out my latest book haul coming soon!
Feel free to read my last book haul case you missed it.
(Pic Sources: Amazon)
What have you read in July 2017? Any recommended August reads? Let me know in the comments below!